Buried creeks also to blame for New York City flooding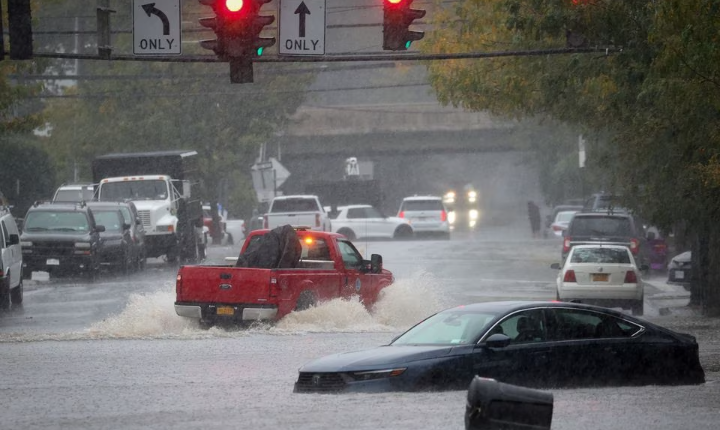 New York City: Torrential downpours after a week of mostly steady rainfall brought flash flooding to New York City on Friday, disrupting subway service, inundating ground-level apartments and turning some streets into small lakes.
While some people blamed the flooding on climate change others said it was due to the city's poor infrastructure.
But Emily Gallagher, NYS Assemblymember, said pointed out a certain area in the city where there's "always flooding."
She said, "One reason why there's always significant flooding around McCarren Park, Brooklyn, New York City, during extreme rain events: there are buried creeks under there. And the whole thing was a salt marsh!"
She also shared a map to corroborate her statement.
Almost eight inches (20 cm) of rain fell in some parts of the most populous city in the U.S., enough to enable a sea lion at Central Park Zoo to swim briefly out of the confines of her pool enclosure. Another few inches could fall in the region before the storm system pushed out to sea later on Friday, forecasters said.
New York Governor Kathy Hochul warned of "life-threatening" floods and declared a state of emergency for New York City, Long Island, and the Hudson Valley. Some National Guard troops were deployed to assist in the response.
In Mamaroneck, a Westchester County suburb north of the city, emergency officials used inflatable rafts to rescue people trapped in buildings by floods.
Flooding caused major disruptions to New York's subway system and the Metro North commuter rail service, according to the Metropolitan Transportation Agency, which operates both. Some subway lines were suspended entirely, and many stations were closed. Some bus routes slowed to a crawl, trapping riders for hours. Officials warned some New Yorkers to avoid traveling unless they were fleeing a flooded area.