Sandra Lindsay: Meet the nurse who became 1st to receive COVID-19 vaccine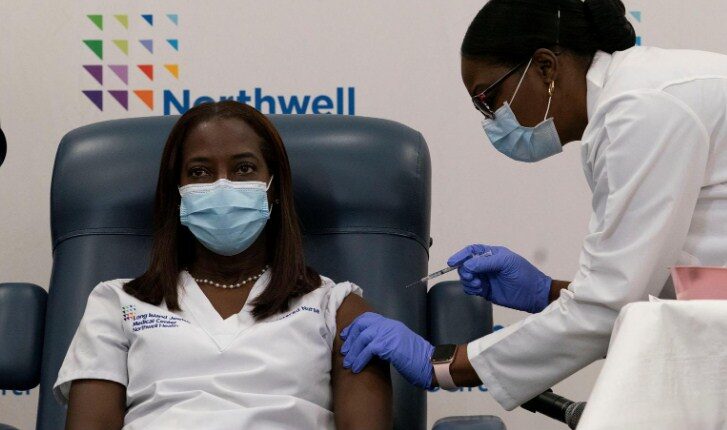 An intensive care unit nurse became the first person in the United States to receive the Pfizer/BioNTech COVID-19 vaccine on Monday, calling it a sign that "healing is coming," as the U.S. coronavirus death toll crossed a staggering 300,000 lives lost.
Sandra Lindsay, who has treated some of the sickest COVID-19 patients for months, was given the vaccine at Long Island Jewish Medical Center in the New York City borough of Queens, an early epicenter of the country's COVID-19 outbreak, receiving applause on a livestream with New York Governor Andrew Cuomo.
"It didn't feel any different from taking any other vaccine," Lindsay said. "I feel hopeful today, relieved. I feel like healing is coming. I hope this marks the beginning of the end of a very painful time in our history.
"I want to instill public confidence that the vaccine is safe," she added.
Cuomo tweeted a picture of Lindsay, wearing a mask and staring resolutely ahead, as a doctor injected her in the arm, and said she was the first American to get vaccinated.
"This is what heroes look like," Cuomo wrote.
Minutes after Lindsay received the injection, President Donald Trump tweeted: "First Vaccine Administered. Congratulations USA! Congratulations WORLD!"
Long Island Jewish Medical Center, operated by New York's largest healthcare system, Northwell Health, was one of many select hospitals across the United States that was administering the country's first inoculations of a COVID-19 vaccine outside of clinical trials on Monday.
The vaccine, developed by Pfizer Inc and German partner BioNTech SE, won an emergency use authorization from federal regulators on Friday after it was found to be 95% effective in preventing illness in a large clinical trial.
Its arrival provided some welcome relief as the country passed the grim milestone of 300,000 lives lost on Monday, with COVID-19 hospitalizations at record levels. More than 16 million U.S. coronavirus cases have been recorded to date.