Student kills S.E College Bahawalpur professor
BAHAWALPUR: A student killed a professor of S.E College Bahawalpur after an argument broke out between them over an annual welcome party on Wednesday.
The incident occurred in south Punjab's Bahawalpur district where a student of B.S English identified as Khateeb, son of Muhamamd Hussain,stabbed Professor Khalid Hameed.
The teacher was injured in the attack and shifted to hospital where he succumbed to his injuries.
The student is said to have attacked the teacher saying arranging parties is "against Islam".
Civil Lines Police in Bahawalpur City circle has registered a case after arresting the student.
A video of the student has also circulated in which he confessed to murdering his teacher whom he accused of blasphemy.
Moreover, a group of college students had recently written a letter to Bahwalpur DCO requesting him to prevent the S.E College's English Department from holding an annual function.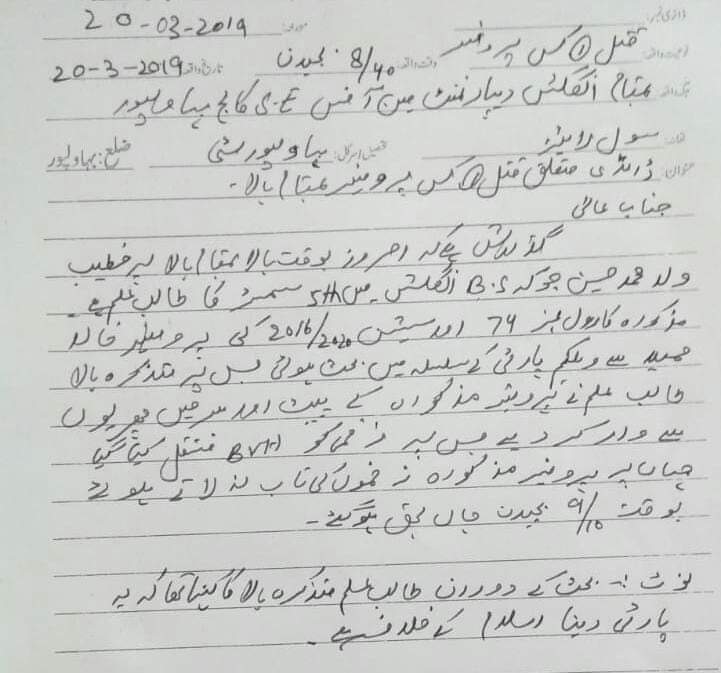 The letter said culture of obscenity is being promoted in the educational institutes where girls are made to dance.
The students said such functions should not be allowed to be held in an Islamic country.