Who is Farah Gogi?
Islamabad: Maryam Nawaz last month claimed that a woman named Farah Khan was involved in corruption of billions of rupees.
Talking to the media, the PMLN leader said that the woman has been receiving bribes for transfers and postings.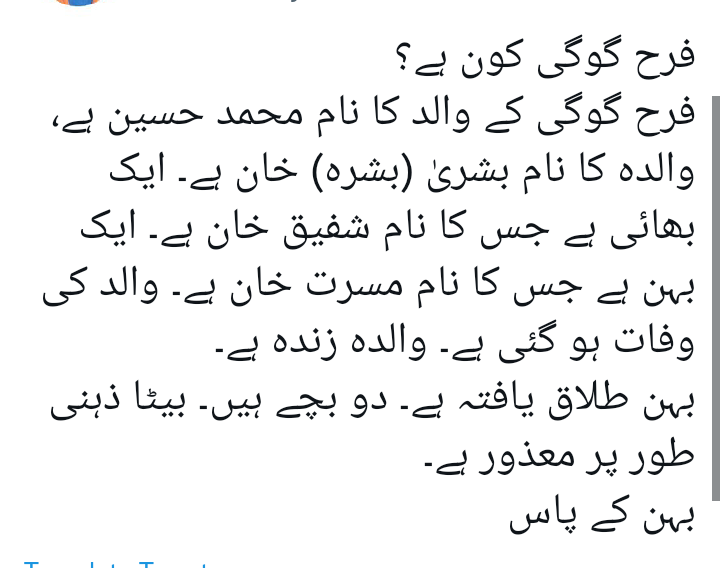 She also accused Prime Minister Imran Khan of being behind Farah.
She later took to Twitter and said that Farah's corruption was the mother of all scandals.
Maryam Nawaz said that Farah made more than six billion rupees in transfers and postings.
The woman Maryam Nawaz accused of corruption is known as Farah Gogi.
Farah Gogi, according to senior Pakistani journalists, is a friend of First Lady Bushra Bibi.
Former PTI leader Aleem Khan also named her in his latest press conference amid reports that Farah Gogi has left Pakistan. He accused Farah of receiving billions of rupees in bribes against transfers and postings and demanded an inquiry to ascertain where did the money go.
Imran Khan recently told Arshad Sharif that his wife and her friend Farah would soon face allegations from the opposition.
According to a senior Pakistani journalist, Farah Gogi, also known as Farah Gujjar, has contacts with Owais Muzaffar Tappi, the foster brother of Asif Ali Zardari, in Dubai.
Farah Gogi is the wife of Ahsan Jameel Gujjar and the daughter-in-law of Pakistan Muslim League-Nawaz MPA Iqbal Gujjar, who became MPA from Gujranwala in 2018.

He served as the minister in Nawaz Sharif's government since 1985. He was also the PMLN's candidate for the Speaker of the Punjab Assembly in 2018.