Women in Music Canada Announce Recipients of Inaugural WIMC Honors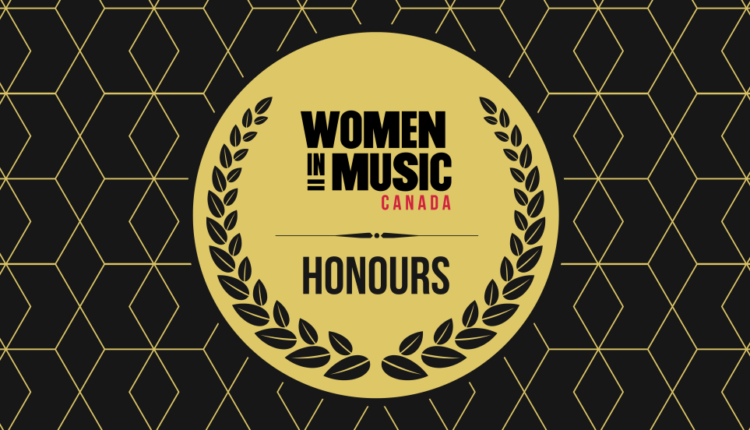 The inaugural WIMC Honors recipients have been announced by Women in Music Canada (WIMC). The Honors were created to recognize and support Canadian innovators and creators who have achieved exceptional success in their respective fields in the past year. The 18 awardees were presented with their Honors on March 8 at Toronto's Opera House.
The WIMC Honor Roll acknowledges up to 10 women and gender-diverse industry members or artists who are in the early stages of their careers and are demonstrating success and growth in their work. These individuals are being recognized as the up-and-coming voices in the Canadian music industry to watch for in the years ahead.
WIMC Executive Director, Robyn Stewart, stated, "With so many amazing women who have shattered glass ceilings and paved the way for a more equitable music industry, I am incredibly honored to kick off this year as the beginning of celebrating their accomplishments. I am also excited to raise up the projects of newer women in music who are making great strides in unique equity serving projects. This is just the beginning."
The 2023 recipients were chosen by a finalist jury from a long list of nominees that was revealed in February. After thoughtful consideration, the finalist jury decided that two Trailblazer Awards should be presented in this inaugural year, as a start to WIMC's ongoing work in recognizing long-standing industry leaders who have devoted their careers to making change.
Sandy Pandya of ArtHaus Music and Ryhna Thompson of Envision Management and Production were both honored with the 2023 Trailblazer Award.
Hosted by CBC's Saroja Coelho, the reception dinner featured performances by a remarkable group of artists, including Sacha, a rising country star, Liliane Chlela, a producer, DJ and performer, Desiree Dawson, a JUNO-nominated recording artist, songwriter and producer, Tia Wood, a Cree and Salish singer, Sofia Camara, a singer, songwriter and multi-instrumentalist, and Fefe Dobson, a decorated, multi-platinum recording artist.
During the event, a special induction into the Canadian Songwriters Hall of Fame was presented to Loreena McKennitt, a multi-award-winning, GRAMMY-nominated singer-songwriter and multi-instrumentalist.
2023 Honors Recipients
Artist of the Year (presented by Amazon Music) – Charlotte Cardin
Distinguished Leader (presented by TuneCore) – Keziah Myers, ADVANCE: Canada's Black Music Business Collective
Entrepreneur of the Year (presented by Bandzoogle) – Elise Roller, Misfit Music MGMT
Excellence in Live Music – Heather Gibson, The National Arts Centre
International Leader of the Year – Faryal Khan-Thompson, TuneCore (USA)
Organization of the Year – Ishkōdé Records / Indigenous Music Alliance
Trailblazer Award – Ryhna Thompson, Envision Management & Production
Trailblazer Award – Sandy Pandya, ArtHaus Music
2023 Honour Roll (presented by Spotify):
Ashley Bieniarz, Songsmiths
Domanique Grant
Janna Sailor, Allegra Chamber Orchestra
Mary Beth Waldram, Laughing Heart Music
Nicole Alosinac, Nicole Alosinac Luthiery
Nicole Auger, Indigenous Music Alliance
Shumaila Hemani
STORRY
Sunny Chen, Sad China
Yolanda Sargeant, Sargeant X Comrade