Fact-check: Over 5,000 army officers have not submitted resignations
Islamabad: Anchor Imran Riaz Khan demanded explanation from the army over false claims made by a fugitive retired army major Adil Raja known for spreading lies and fake news on social media.
Both Imran Riaz and Major (retd) have been accused of making money from YouTube by misleading the youth affiliated with the PTI.
Imran Riaz Khan, a propagandist formerly known as establishment's tout, recently asked the Pakiatan Army to clarify the claims that more than 5000 military officers have submitted their resignations for reasons unknown.
Although the army did not react to reports of mass resignations, Abdullah Gul, the son of former ISI chief Gen (retd) Hameed Gul, asked the people not to believe the propaganda against the state institutions.
He said that the reports that 22,00 army resigned during General Bajwa's era is a lie.
He said that the news of 5,000 army officers submitting their resignations is also fake.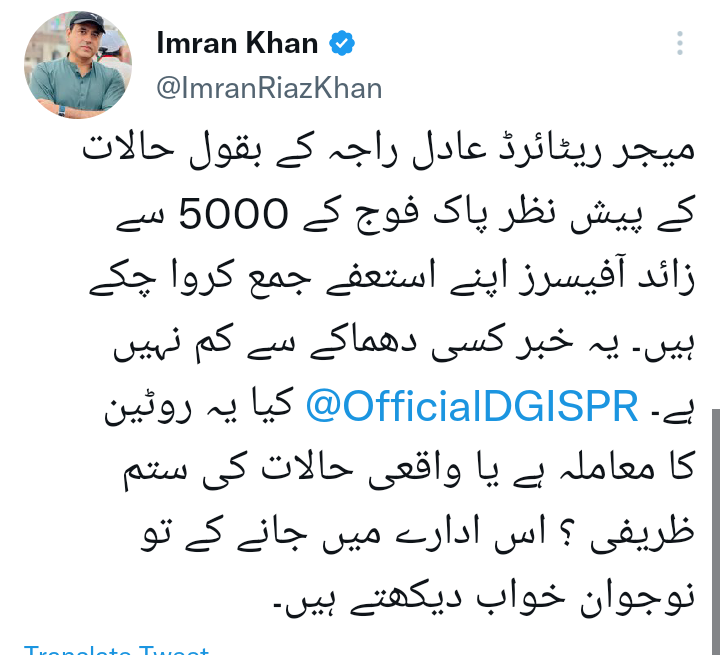 Without confirming Adil Raja's claim like a professional journalist, Imran Riaz shared it on Twitter and added fuel to the fire by asking the army whether it had become routine in the military.
Sane voices within the PTI believe that the likes of Imran Riaz and other YouTubers were responsible for pitting the party against the establishment for the sake of their YouTube views and the dollars they earn through the video sharing website.